Affordable Friday with Something for Everyone!
15 min read
Welcome to today's Affordable Friday post! I am over the freaking moon about this post because I am so proud of the items I found. You guys know how much pride I take from the Affordable Friday posts. Well, this one is beyond good and I found some of my new favorite pieces at insanely good prices and  I'm so happy to share them with you.
I have some notes about sizing in this blog too so make sure you read my full review of any item you're interested in buying. There's a little something for everyone in this post. Stuff to keep you warm, active-wear to keep you on track with any fitness resolutions you might have this year, and then a few pieces I think would be cute for Valentine's Date! Now let's get started with the most fun outfit I've ever worn!
$20 Skinny Jeans
Starting with these because I have been wearing these skinny jeans lately and have received HUNDREDS of DMs asking where I got them! I've had for maybe three months now. They've held up really well and they're just a really flattering fit. I'm wearing a size 8 and that fits well. In general, I feel like I size up in Free Assembly denim. This pair comes in a bunch of different shades, including black and I love that they come in size 0 up to size 22. Check out the reviews. There's over 125 reviews for these skinny jeans so see what other people are saying. People love them! Oh gosh, I forgot to mention they're on sale for $20 right now! That's right an incredible pair of skinny jeans for $20. You can't go wrong with them!
Pink Jumpsuit! (comes in other colors)
I mean who can wear a pink jumpsuit and not smile? Not me. I love every little thing about this jumpsuit and most of all I love how it makes me feel. Not only cause it's really cute and flattering. but the color is just an instant endorphin booster! Get this, it's under $20! Now that's gotta make you smile!

For sizing, size up by one size in this jumpsuit. For reference I'm normally a size 6/size medium and I sized up to a size large in this jumpsuit. It's by the No Boundaries line at Walmart, which is a junior line so I tend to size up in this brand. However it comes in sizes XS up to XXXL so hopefully you can find a size that works for you! It also comes in a couple prints and in black. I ordered the black too just because I love it so much. It's so cozy for lounging around in the winter. You just cannot beat the price at $19.98.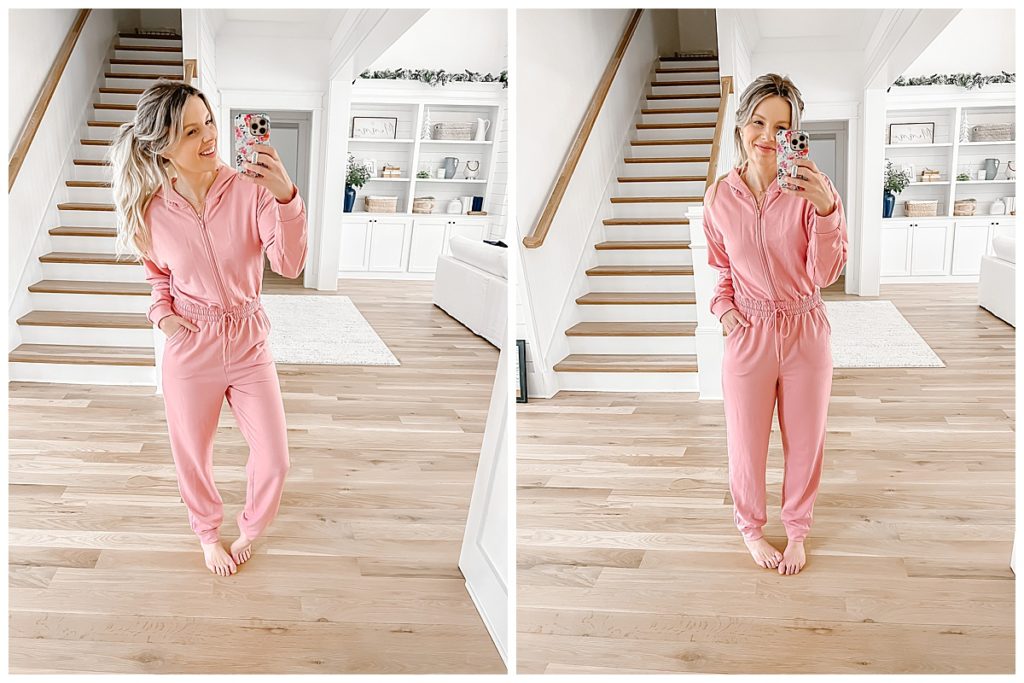 White Puffer Coat
Moving right along to my next favorite. Honestly, it was hard for me to decide between the jumper and this jacket for what to talk about first because I love them both so much. I got this jacket because I have one super similar to it and I probably get 100s of DM's, if not 1000s of DMs about it every single time I wear it. However I got it like six years ago and it's no longer available so I was on a mission to find a similar one at a really good price! So I saw this jacket on Walmarts website that has insanely good reviews and is $72!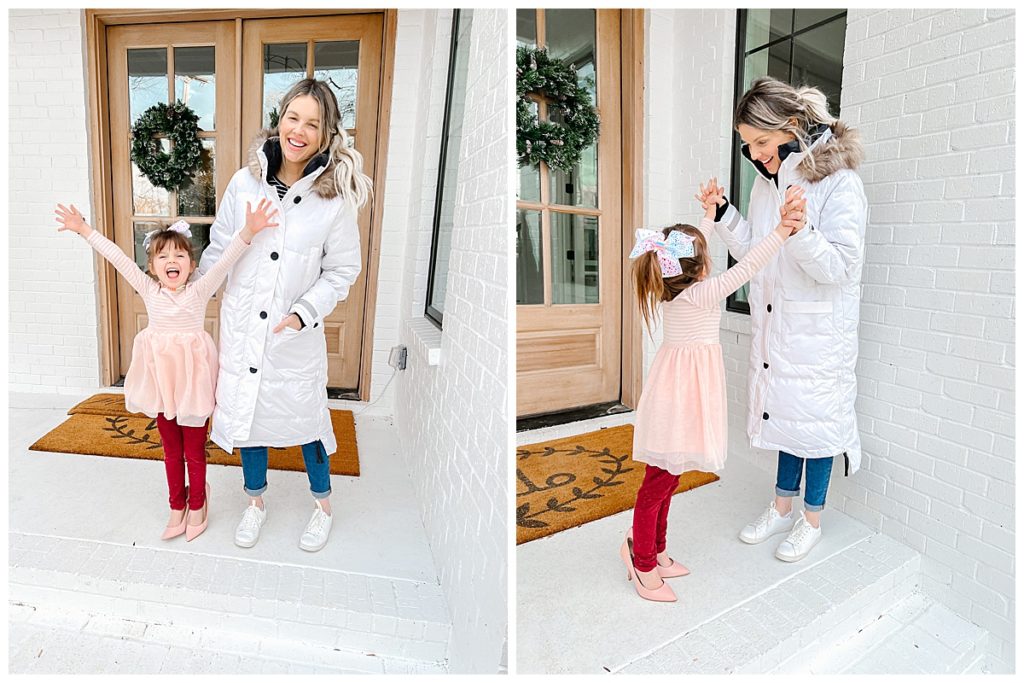 Normally I wouldn't talk about something that $72 for an Affordable Friday post. But the fact that this is a heavy super warm jacket, I think that price is an absolute steal! Normally jackets of this quality are over $100, if not $200+. Let me tell you, this jacket is warm! Let me tell you some things that I absolutely love about it! First the faux fur collar, the fact that the part that goes around your neck is black so that when it rubs up against your face you don't have to worry about getting make up on a white coat is soo amazing. Oh my gosh, the length is so good because it covers so much of your body. Plus, it's got zippers on the sides that you can put up and down to give you more room if you want to when walking around. I also love that on your wrists there are little thumb holes to put your thumbs through and it has four pockets on the outside of the jacket. Not to mention that there is also one on the inside of the jacket to keep things secure.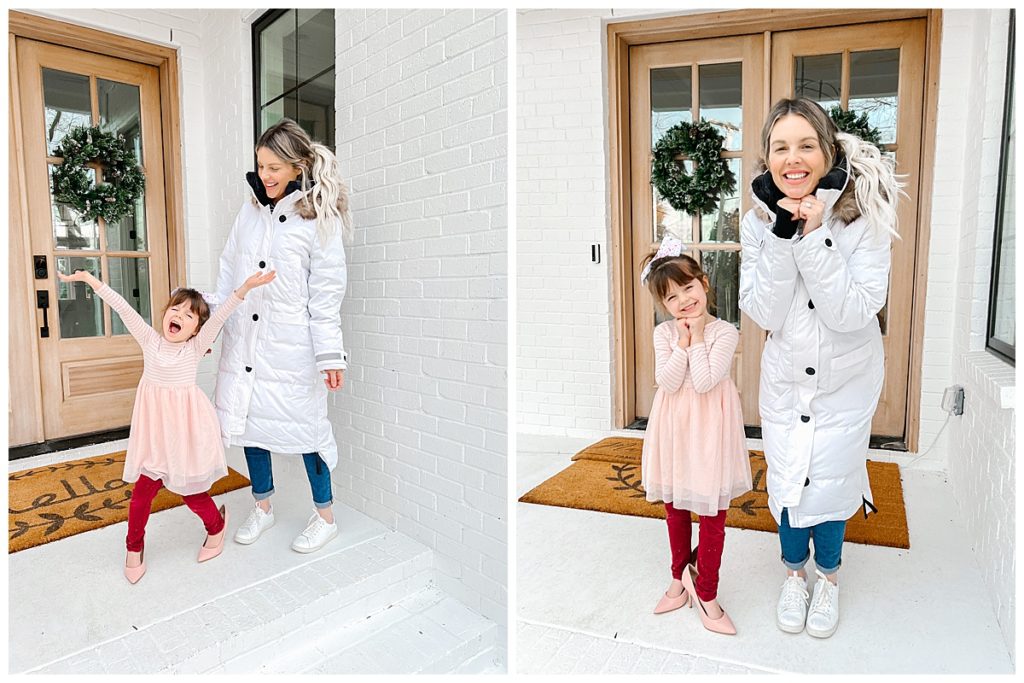 I'm wearing a size medium which is my normal size and it fits well, but also has plenty of room to wear a big bulky sweater underneath. I got the white because I love it, but it comes in six colors total including black, a stunning navy blue, and a really chic army green. Honestly, I think the army green one looks high fashion or something.
Anyway rush to get this jacket before it sells out. You'll be so so so happy with it!
My FAVE Casual Top
This feels like it belongs in a high-end boutique. When I ordered it, I truly did not think I would like this shirt even close to how much I absolutely love it. I honestly kind of thought it would just be a so-so layering shirt or something to throw on when I wasn't leaving the house. Heck, it's only $11 so I really didn't have super high hopes, but I would pay $50 for this shirt that's how much I love it.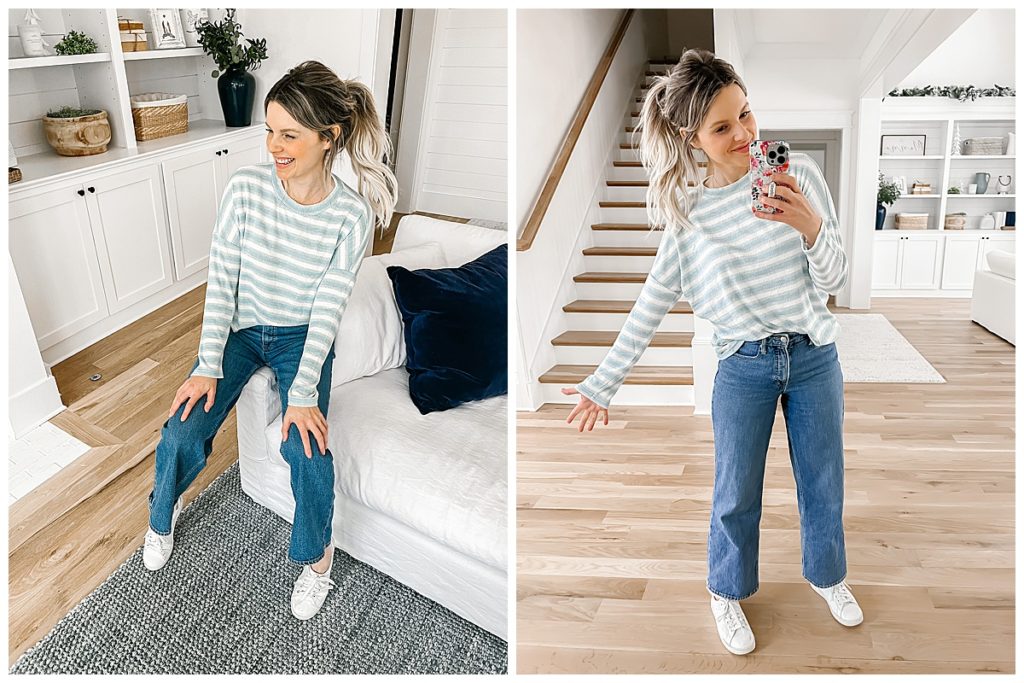 1. STRIPED TOP | 2. JEANS | 3. WHITE SNEAKERS
I'm wearing a size medium, which is my normal size so it's definitely true to size. There's one 5 star review for it on the site and that person says it runs large. But I guess it kind of depends on what you're looking for. If you want it more fitted sure than yes, you could definitely size down and it would be great. But in my opinion the collar of the shirt is supposed to be a little oversized and I love it exactly that way.
It comes in size XS to XXXL. Heck yes for Walmart always nailing it with the size inclusivity.  It also comes in a few other colors and even in a couple solids. There is a blush striped version that I already ordered because I love it so much. It's fully in stock right now, but do not wait on the shirt because once people catch on to how awesome it is it's going to sell out. The photo on the website just doesn't do it justice, but hopefully my photos give you a better idea.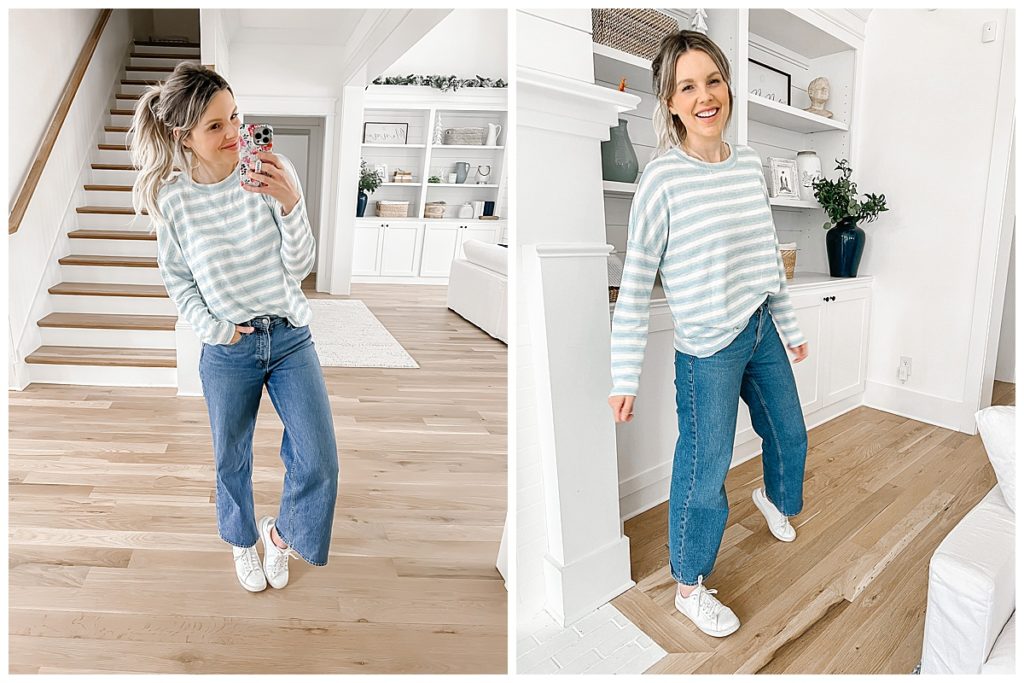 1. STRIPED TOP | 2. JEANS | 3. WHITE SNEAKERS
You guys know I love my skinny jeans, but I am absolutely in love these wide-leg straight 70 style jeans – they are SO on trend right now. Having both in your closet is definitely a must. They are both perfect to achieve different styles of looks!
I'm normally a size 6 or 8 in denim. Or like a size 29. I got the size 8 in these and they fit perfectly. So I would definitely stay to size up one in these. If you're unsure you can always order more than one size and return what doesn't fit. That's one of my favorite things about Walmart is the return policy is so simple and easy. But I love this pair of denim and I would say I wear them at least twice a week, if not more.
Also, I've blogged about these shoes so many times. The price is just ridiculous and they're just super cute white shoes that I wear all the time. If you haven't gotten them already, what are you waiting for?! They are $14!!!! And if you have gotten them, tell me what you think in the comments below! I always love hearing other peoples reviews after they've gotten some thing from one of my Affordable Friday posts.
$7 Sweater!!!!
This sweater is so beautiful. It's just a really great cowl neck sweater that you can't go wrong with. I am shocked by the price because when I bought it it was $17 and I thought that was a steal, but for some reason it's on clearance for $7 right now. The sweater has 137 super positive reviews so snatch up the $7 sweater now before it's gone. I'm wearing a size medium which is my normal size. It also comes in gray and black – and the gray is fully in stock right now. Heck get every color for the $7! It's warm, really pretty, and soft!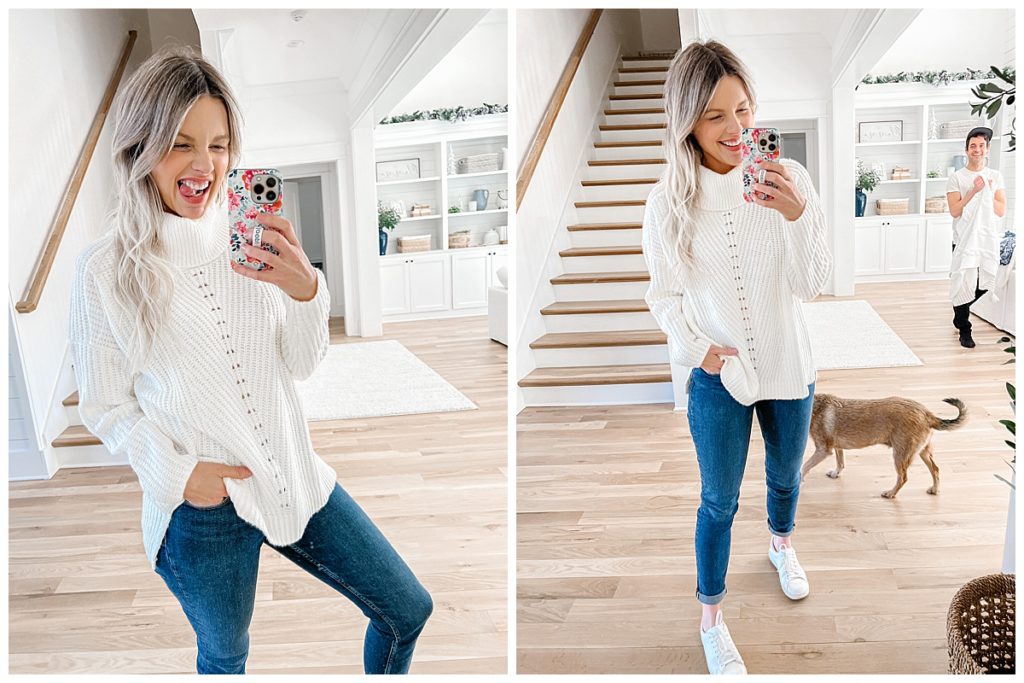 1. $7 COWL NECK SWEATER | 2. $20 SKINNY JEANS
Fringe Sweaters
Also want to share these sweaters. I just love the fringe detail which is super on trend and really cute. However, make sure you size up if you get the sweater. I took these pictures quick for this blog post because I didn't want them to sell out, but I actually ended up returning the sweater for the larger size because I got my normal size which is a size medium and it was just a little too snug. This is the brand New Boundaries, which is a juniors brand like the jumpsuit, so I usually size up in their stuff anyway. I think I just wasn't thinking when I ordered these and got my normal size medium. I returned them and re-ordered the white in the size large.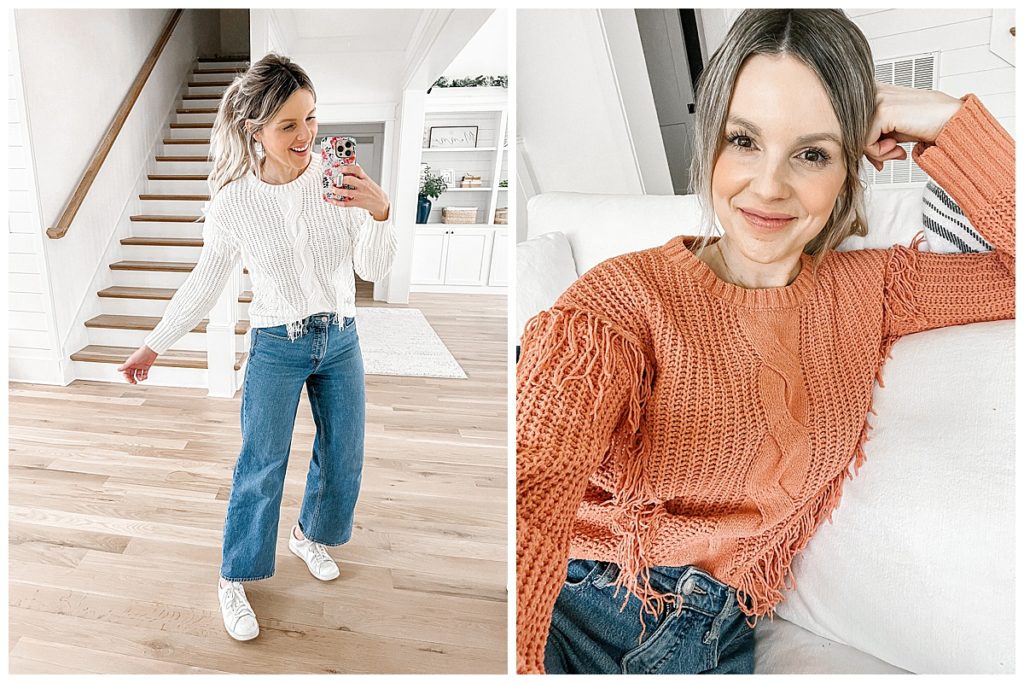 1. WHITE FRINGE SWEATER | 2. 'PEACH WOOD' FRINGE SWEATER | 3. JEANS | 4. $14 SNEAKERS
I like the other color too. But I just knew I'd wear the white more and I didn't need both of them. I do that a lot with clothes I'll order multiple sizes or colors and then just return what doesn't work and that way I know I'm always getting my absolute favorite pieces! And just FYI the one on the right is called Peach Wood on the site. But I definitely think it's more mauve color than a peach color. I think my photos are more of the true color than the one on the website just FYI.
Activewear
I know this time of year people like to update their activewear, so I wanted to share some affordable options that I really like! Everything is from Sofía Vergara's active line and really affordable. Although I will say, I do think her line runs a little bit big. I got a size medium in everything, but I honestly think a size small would've sucked me in a little more so if you're in between sizes I definitely recommend sizing down.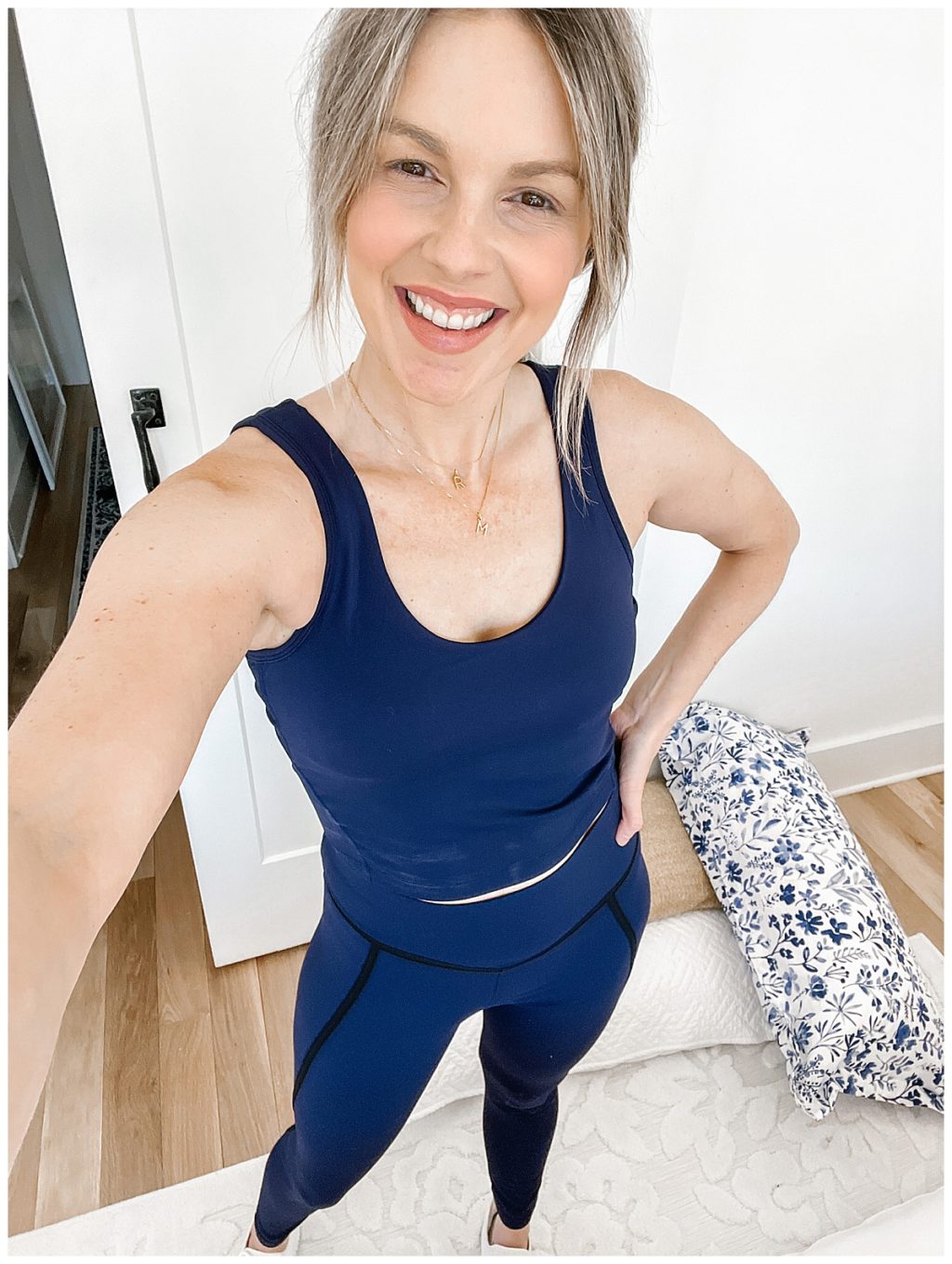 1. NAVY ACTIVE CAMI TOP | 2. FLORAL ACTIVE CAMI TOP | 3. NAVY LEGGINGS
Especially size down for the top. I'm not very  busty. I'm a full B or very small size C cup size and I do think the size medium in the bra is a little big on me. But they fit so well and are really cute! I got both the navy version to match with the leggings and the floral version. If you look on the tags it actually says the medium is a size an 8/10 and I am a 6 so I do think the size small would've been better for me.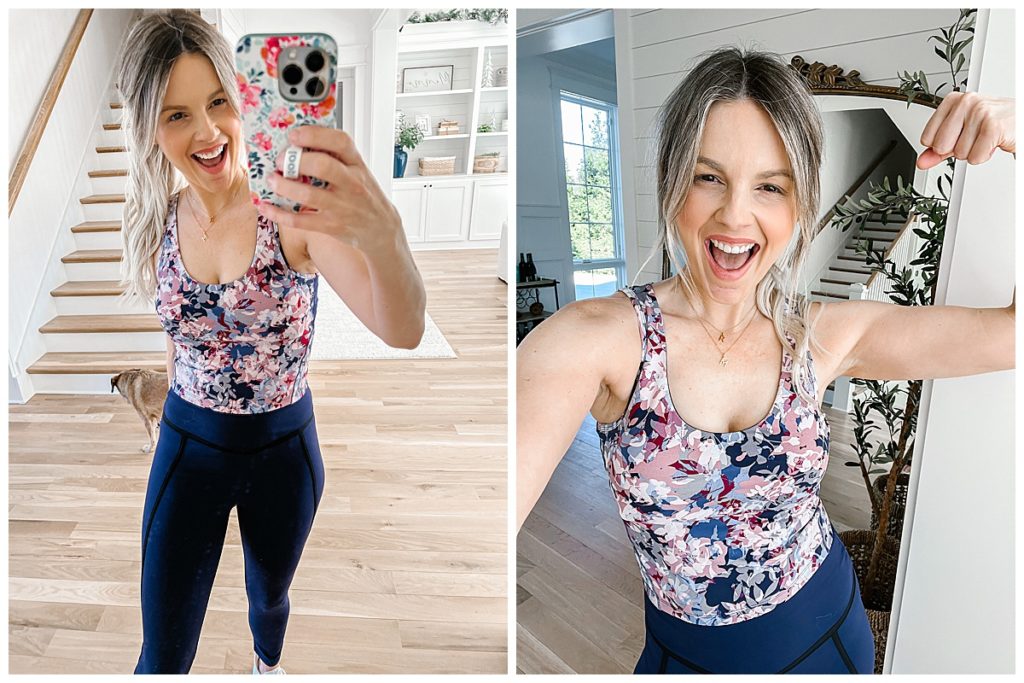 1. NAVY ACTIVE CAMI TOP | 2. FLORAL ACTIVE CAMI TOP | 3. NAVY LEGGINGS
The leggings are amazing! Again, I got a size medium and I do think I could've sized down but I love the fit of them and I love the piping of the black because I feel like it gives me really great shape! Plus they're just really flattering and only $22!
And last for the activewear look but definitely not least, is this athleisure mock neck hoodie. Oh my gosh, I love love love love it! It's only $15.98 and so cozy! No seriously it is one of the softest things ever and I just think it's so cute to wear with leggings to go out and run errands or to go for a hike/walk in the afternoon. It also has little holes for your thumbs which I always appreciate in pieces like this.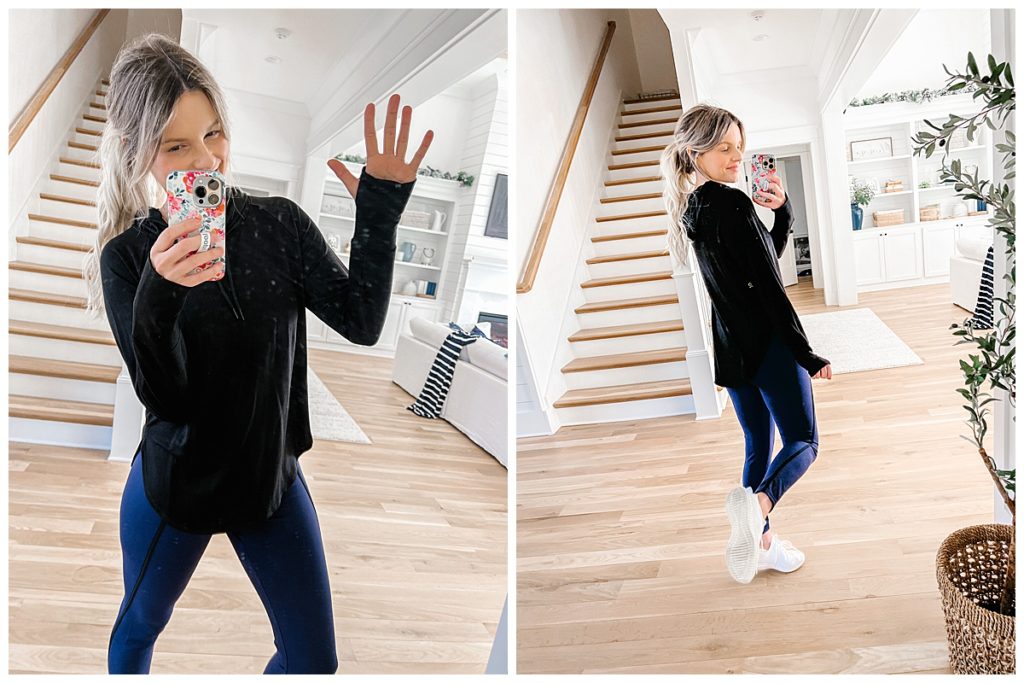 1. LEGGINGS | 2. ATHLEISURE MOCK NECK HOODIE
Valentines Day Inspo
Also wanted to include some Valentine's Day inspo Affordable Friday pieces for you guys!
I linked to the sweater in a recent blog post I did, but I wanted to put it here as well because I just love it so much! Quick, an important note on sizing os that you'll see you when you click through this top that it's a plus size top. I don't normally wear plus size clothes, but I just loved the top so much that I decided to get it in a 1X to see how it would fit and I just love it so much! It just gives a really nice baggy oversized look on me. If you're reading this post then you know that I'm a size medium for reference. So even if you normally get a size smaller than 1X, I still think this could work for you because it works for me. Then if you normally are 1x to 3X, this is also perfect for you! It will just fit less oversized as it's intended to look. I think this would be super cute to wear on or around Valentine's Day or really whenever. The sweater just makes me happy.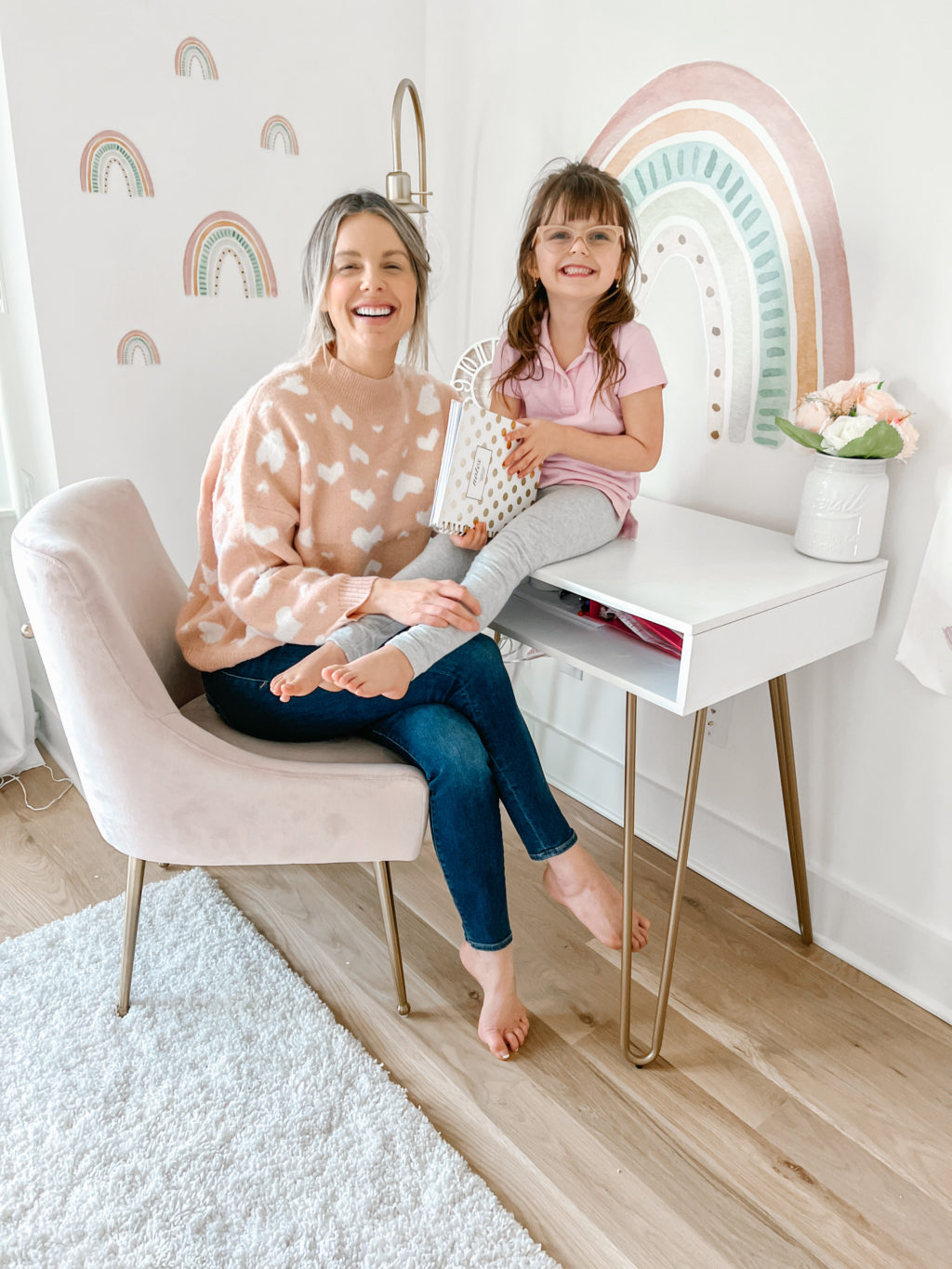 1. BLUSH HEART SWEATER | 2. BLACK HEART SWEATER
Another sweater I want to include that I think is so perfect for a date night is this gorgeous pearl sweater. It's by the No Boundaries brand and I got a size medium, but it's actually perfect for this one. I don't think you need to size up. Unless of course you wanted to have a baggier feel then you could. But I thought this is just so pretty to throw over a little cocktail dress or even to wear with jeans and heels for a little sexy top. The pearls just make it look so gorgeous and expensive. I cannot believe that it's only $14.98. Definitely snatch this up quick because it will be one of those pieces that you get so many compliments on and people will have no idea that you got it at such an affordable price.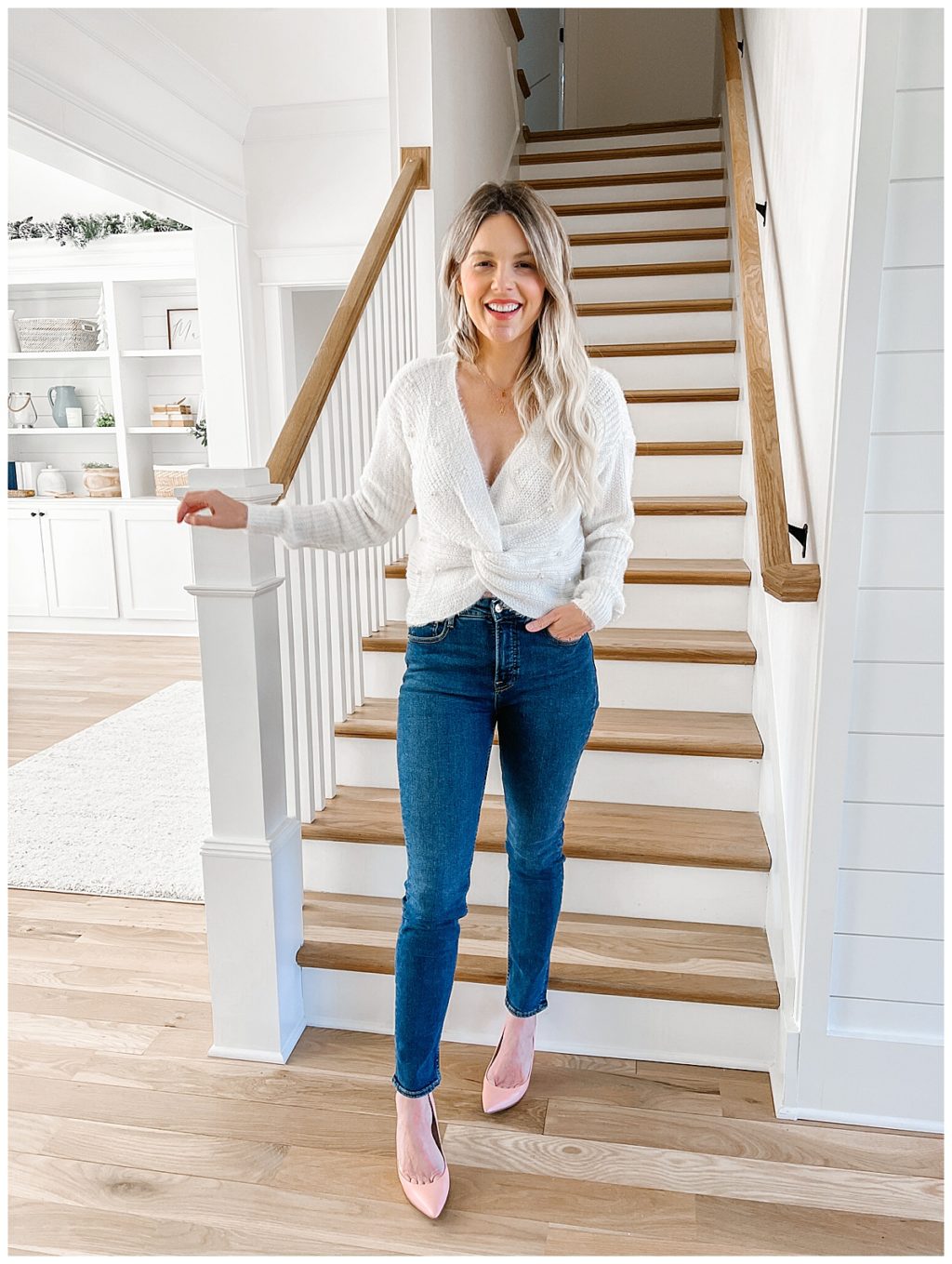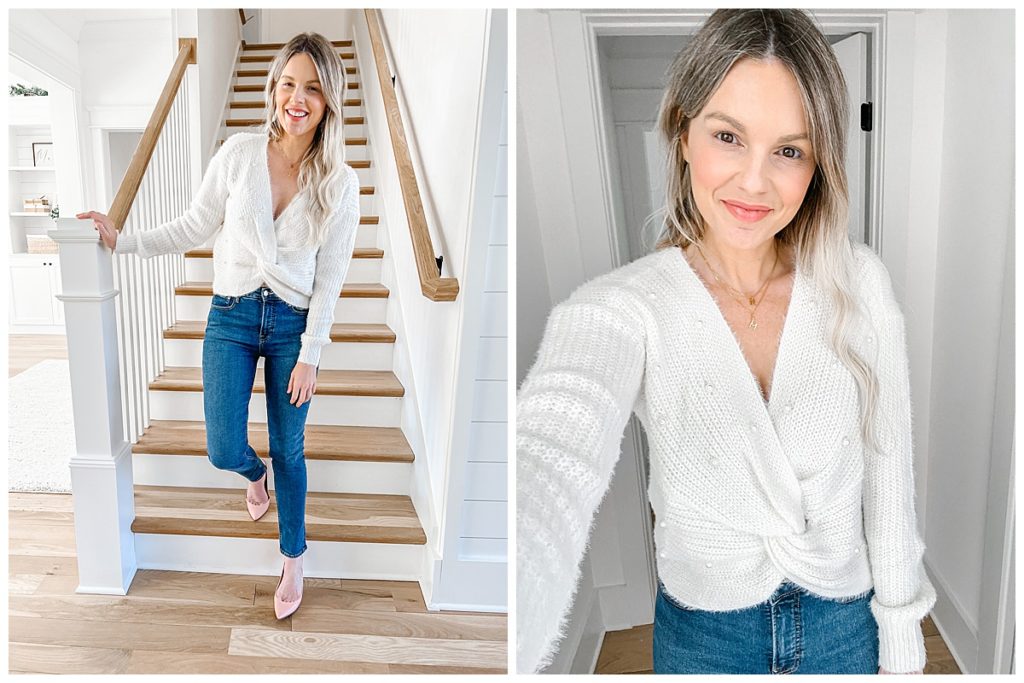 1. PEARL SWEATER | 2. $20 SKINNY JEANS
Day Time Date
I also wanted to include a cute casual sort of daytime date top. I know I'm posting a lot of sweaters and warm things in this blog, but I always like to think about people who live in say Florida or Texas or California just because when I lived in California I would always be so bummed when bloggers only wrote about winter looks during the winter because it just wasn't cold where I lived. So I feel like this is perfect for someone living in a little bit warmer of a climate.

 1. FLORAL TOP | 2. $20 SKINNY JEANS
I think it's absolutely adorable to wear with jeans and white sneakers. It looks clean crisp and fun. I just feel like this will be a go to top for people, including myself, when I want to look put together, but effortless. And I'm always gonna come back to price. It's only $16.98! I'm wearing a size medium which is my normal size. So I'd say it's true to size. I paired it with my $20 skinny jeans that I am absolutely obsessed with!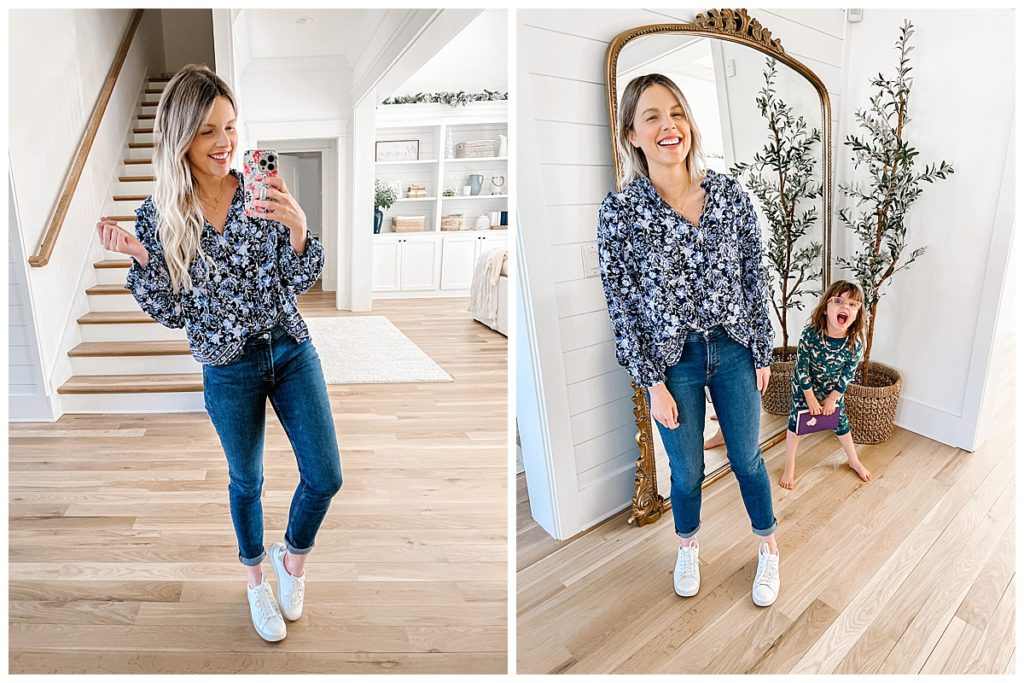 1. FLORAL TOP | 2. $20 SKINNY JEANS
Striped Set
I just love this little striped combo. I feel like this is great for a date look in the warmer states or to snag now to wear to any upcoming spring break plans you might have. I'm wearing size medium, which is my normal size. I'd say it feels a little loose. I feel like I could've sized down on this one. So I would say if you're in between sizes, definitely get the smaller size. For both the dress and the cardigan it's only $34.98! If you break that down that's basically $17 for each piece, which is such a great deal. I love how they styled it on the website with the white sneakers so I did the same and I definitely feel like this is something I can wear to a lunchtime/brunch date with my husband or even to a parent event at my child's school. It's just really versatile and beautiful. I also feel like this would make a great maternity dress!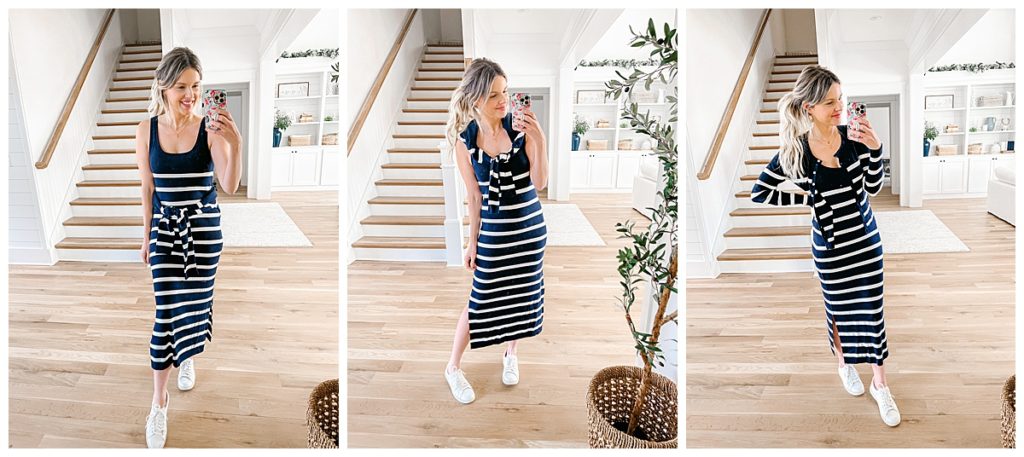 1. STRIPED DRESS & CARDIGAN SET | 2. WHITE SNEAKERS
A Few Bonus Things
I'm gonna link a few more things here that I just bought recently from Walmart that I'll probably be wearing in the coming weeks so I want to be able to direct people back to this blog post if anybody asks me about them. I ordered this chambray shirt and this black super soft tunic top. Yes, that's what it's called super soft tunic top. If this top is as good as I think it's going to be, I feel like it will be one of my go-to tops. I also ordered this leopard heart sweater that I think is a cute understated top for Valentine's Day and the striped sweater with a heart that also could be something you wear on Valentine's Day. Plus I just really love the stripes and hearts make me happy as you know. Linking all of them below so that you can easily check them out, and adding little snippets about each below!

Leopard Print Heart Sweater
I love this heart print/leopard print top. I just think it's so fun and unique because it has the feel of a leopard print, but it's actually a bunch of little hearts so it's perfect for a little bit of Valentine's Day inspiration this coming February but also it's super subtle and fun with the leopard print feel. I'm wearing a size medium which is my normal size and it's only $15! This would look best with black jeans in my opinion!


Striped Heart Top
This striped top with a heart is another really great option for Valentine's Day. Or Valentine's month! I'm wearing a size medium. Something about the multicolor stripes just feels happy to me. Plus it's only $15.98 so it's a great deal!
Super Soft Black Tunic Top
Last but definitely not least is this super soft tunic top! That's not just what I'm calling it, that's legit the name of the product on Walmart's site. And oh my gosh it is so so so true! First this top is under $12 at only $11.98 and it is the best! True to the title it is super super super soft! It's really cozy. It's just really great basic to wear both this winter and transitioning into spring. It comes in a couple other colors as well. I feel like this is the type of top that is really great to wear with leggings because it will cover your hips and booty. Sometimes I'm just more comfortable in tops when they cover my hips and butt. Also, this is size inclusive which I love. I hope you guys love it too!


Can You Believe It's Almost February?!
Well that's all for me! What did you guys think of this Affordable Friday post?! There's so many options to choose from and such great pieces that I apologize in advance if you spend more than you'd like to. But the good news is, even if you buy every piece it's still all super affordable so hopefully it wouldn't be too much of a hit to the wallet. Love you guys so much and thank you so much for being here and supporting my blog! Please comment below and tell me what looks like the most or ask me any questions you may have!
And thank you Walmart for being a sponsor of my blog!